All of our pets are neutered UTD on age appropriate vaccinations, wormed, Heartworm Neg. and on prevention for fleas/ticks and heartworms and microchipped
Adoption fees range between: $50 - $400
Adoption fees of all dogs go to cover all expenses incurred in ourrescue including but not limited to medical, food/treats, toys, etc.
Rayner is a three-year-old 70lb purebred German Shepherd. We have spent much time getting to know him. After just the first few days it was suspected that someone had been working with him in German as such we decided to try out a few German commands. Rayner will sit, down and heel in German. He has tons of energy and will require someone with the means to help him productively use that energy. Rayner also has a high toy drive. He will take off after just about any toy and though he brings it back to you, you must retrieve it from him. We are working on teaching him out but he doesn't have it down yet. He can clear a 6-foot fence so he will require either being walked on a leash or an 8-foot fence. When playing with him in the six foot fenced area he will remain in the area unless you leave him unattended. Rayner is Crate trained and there have been no accidents in the home since he arrived. He has done well with the other dogs but we have not yet cat tested him. Though he has not been tested with kids younger than 10 we are recommending a home with no young children.

Rayner is up-to-date on all vetting including microchipped.

​​
Name:Rayner
Breed:German Shepard 
​​
Age: 3 years

​Weight: 70

Sex: Male

Adoption Fee: $300


Meet Daniel Boone. This boy is roughly 4years old and is believed to be a bloodhound Rhodesian Ridgeback mix.

Boone is very shy at first and takes a few days to come out of his shell. He takes a little longer to warm up to men then women. Boone does wonderful with our toddler and other dogs. He does great with cats and farm animals as well. He is a lazy couch potato that loves sleeping in the sun and just being a part of the family. He is very gentle even when he has a burst of energy and wants to run around and play. He is working on house manners not getting in to the trash and counter surfacing. He's also is working on house training. He has not yet learned how to signal he needs to go outside and will go in his crate if not taken out in time. He will need a 6 ft fence as Boone will jump anything smaller. He will make a great dog for a family willing to continue the training we have already started. 
He is up to date on age appropriate vaccinations ,neutered, heartworm negative and on prevention 

​​
Name:
 Daniel Boone
Breed: bloodhound 
Age: 4year

Adoption Fee: $250

​​
Name: Tanker
​​
Breed:
Age: 4 years old 

Sex: Male         

Weight:

Adoption fee: $150

Tanker is a 4yr old big boy. He is crate trained and house broke. He does well with other dogs but has not yet been tested with cats. He has done well with kids as young as 10yrs but has not been around any who are younger. Tanker is very playful and loves attention. If you rub his belly you have made a friend for life. Tanker knows sit and down but can be stubborn about both. He also does well on a leash. We have been working on heel but he doesn't have it down just yet. Tanker was surrounded by his previous do to behaviour issues. After evaluating him and taking him on we believe his misbehaving was cause by a very unstable home and the likelyhood that he was being abused by the adult male in the home. In the right home Tanker is simply wonderful.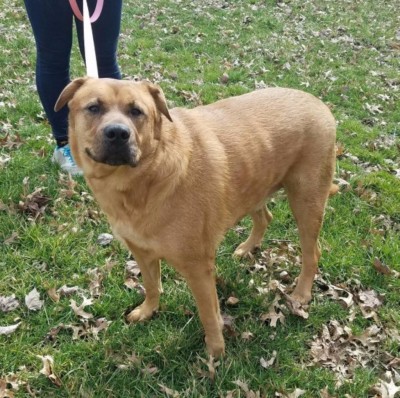 ​​
Name:
Breed: 

Sex:  

Age:

Weight: 

Adoption fee: ​​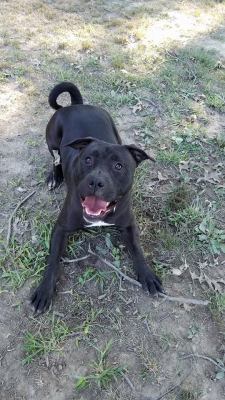 Age: 1.5 years old 

Sex: Male  

Adoption Fee: $250

Durango is a stunning boy is about 1.5yrs old and said to be a Pug pitbull terrier mix. He by far the most loving and playful boy. His foster mom says there just rant enough ways to describe how wonderful he is. Durango is house broke and crate trained. Loves to play with all toys especially those that squeak and anything that rolls. When it comes to balls bigger the better, while a tennis ball will do a soccer ball just seems to be funner. He doesn't always want to share his toys with other dogs but he is much improved. He also seems to greatly enjoy the doggy pools, splashing playing and even just laying in the water. He knows sit and is learning heel and shake. He does well with most other dogs but has yet to be cat tested. He has been around kids as young as 10 on a regular basis and was wonderful with them. He even did fantastic with younger kids who meet him at one of our adoption events. While he does need more obedience training I can only imagine how he will go from a wonderful boy to a fantastic and most outstanding family member. He really is already a terrific dog that one very lucky family will get to add to their pack. 

​​​​
Name: Zera  
Breed:
​ Boxer mix
Age:

Sex: Female 

Adoption Fee: $250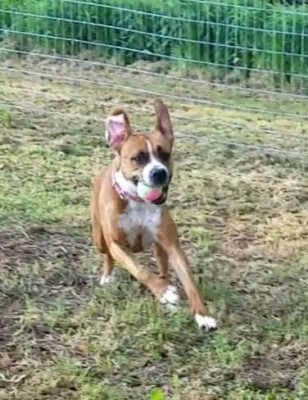 Zera a gorgeous Boxer mix around 1.5-2yrs old.Zera is energetic and fun loving. She enjoys long walks/runs, playing fetch (doesn't always like to give the toy back) and romping with the other dogs. She is crate trained and almost house broke. She does need a home with NO kids under 12 and NO cats.